495/MetroWest Corridor Partnership, Inc.
Leaders for Regional Prosperity
The 495/MetroWest Partnership, through a unique public-private collaboration with businesses, municipalities, and other stakeholders, is the regional leader for creating an environment that prepares for and cultivates sustainable growth. We accomplish this by coordinating, educating, and advocating for solutions to regional constraints and limited natural resources.
Follow us on social media!

You can also listen to recent stories about the 495/MetroWest region covered on WGBH News and NPR's Marketplace!
Can 'The MetroWest Miracle' Sustain Itself? - February 2018
Companies offer private bus services to get young workers to commute from cities to the suburbs - December 2017

As a public-private non-profit charged with the 495/MetroWest regional economy, the 495/MetroWest Partnership is proud of the success of our regional employer survey with Framingham State University and our media partner, The MetroWest Daily News. As we head into our sixth year, the survey has increasingly provided regional leaders and policymakers with hard data on the business conditions facing our employers as well as top concerns for the year ahead.
To continue the success of this annual survey, we ask for a few moments of your time to participate in this important effort. Your confidential feedback is crucial to the success of this survey, which will provide real insight into our region's strengths and constraints. Two respondents will be randomly selected to win a Rail Trail Flatbread Gift Card or a New City Microcreamery Gift Card!

Please participate in our SURVEY to ensure that your voice is heard.
This survey is only open for a limited time, so the results can be reviewed and analyzed for publication by The MetroWest Daily News and its affiliate papers. Your confidential input is crucial to ensuring the 495/MetroWest Region's voice is heard.

Thank you for taking the time to participate in the sixth year of this important survey, and we look forward to sharing the results!
The 495 MetroWest Partnership is pleased to announce the latest edition of our demographic report for the region's 35 communities. Over the course of a year, the region has experienced significant growth in a number of notable areas, demonstrating the region's continued transformation into one of Massachusetts' most promising areas for employers, jobs, and quality of life. Highlights include:
-Over $24 Billion in annual payroll, up $1.5 Billion since the 2017 Report;
- A highly educated workforce, with 57.6% of the population holding a bachelor's degree or higher; and

- A 67% commercial real estate pricing advantage when compared to Boston and Cambridge markets.
These highlights are only a small sampling of the region's achievements during the past year. To view the full report, click here.
If communities or employers in the 495/MetroWest region are interested in specific town data, please visit the 495MW Community Reports 2018 page under Resources.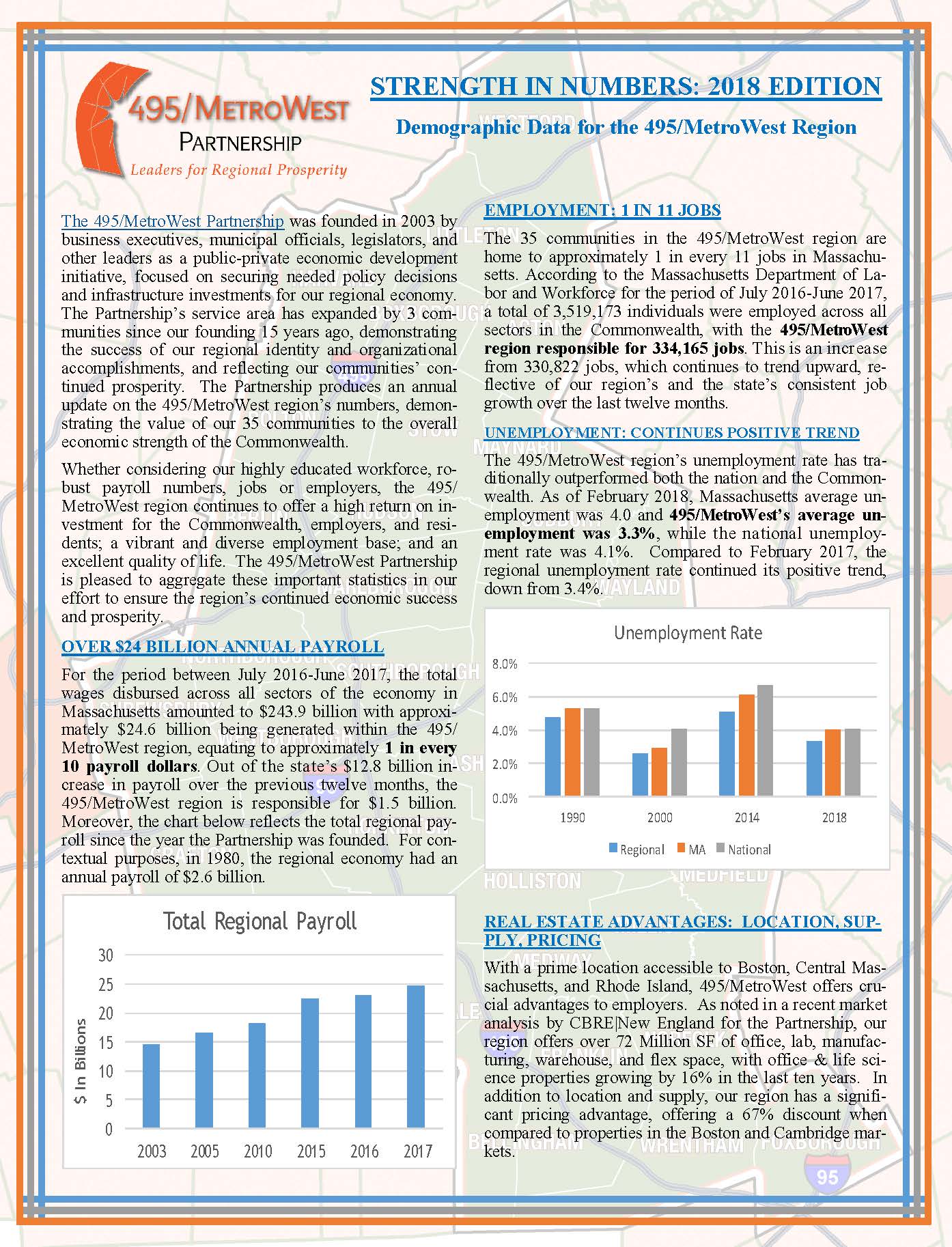 2018/2019 Annual Report
Be sure to check out our 2018-2019 Annual Report:
Partnering for the Region, Succeeding for the Commonwealth!

MetroWest Daily News Coverage of 2018 Annual Conference:
Gov. Charlie Baker vows to upgrade core MBTA infrastructure
495/MetroWest report highlights success in regional economy
!NEW! 495/MetroWest Commercial Real Estate Report by CBRE|New England
For a number of years the 495/MetroWest Partnership has commissioned an annual Real Estate Report. We are pleased to announce a new partnership with CBRE|New England on this valuable resource analyzing the commercial real estate market in the 495/MetroWest Region. We are happy to share the new report in support of our mission to advance the economic growth in our region. Click on the image below to download the 2018 Report.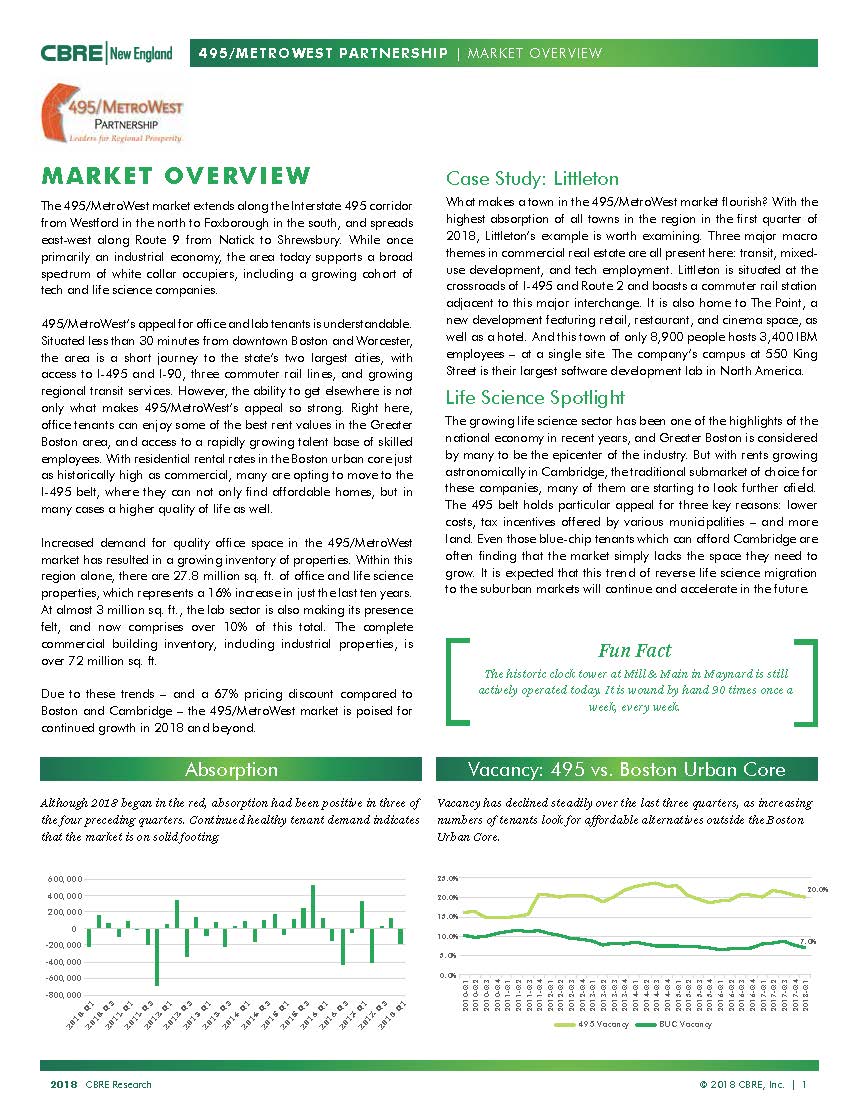 !NEW! - 495/MetroWest SECC Report Released
The 495/ MetroWest Suburban Edge Community Commission was established by the Legislature in Section 233 of Chapter165 of the Session Laws of 2015. The commission looked at development challenges experienced by edge communities, including transportation, water, cellular, and energy infrastructure, transit services, residential development, reuse of former industrial facilities and historic mills, brownfields reclamation, downtown redevelopment and other such constraints. The Commission's Report was approved in a draft form at their January 2018 meeting and finalized in February 2018. All elements of the Report can be found on the SECC website. The commission focused its investigation and study on the 35 municipalities served by the 495/MetroWest Corridor Partnership, Inc.
Media Coverage
Worcester Business Journal - 2/1/18
MetroWest Daily News Coverage - 7/18/16
<<

first

<

Prev

1

2 3 Next > last >>


Page 1 of 3